What is ARTECH Operating Room Integration System?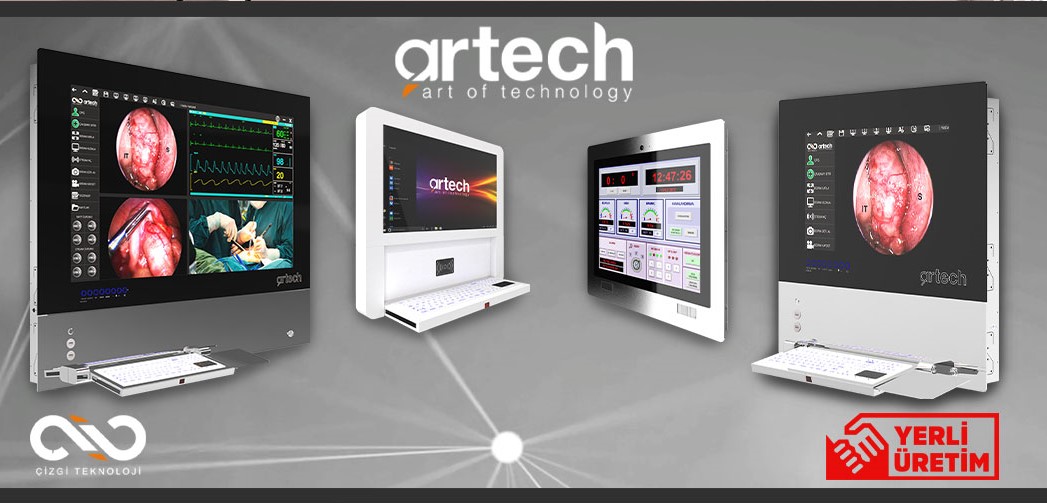 17/12/2020
What is ARTECH Operating Room Integration System?
Artech Operating Room Integration System is our solution, which is one of the important building blocks of digital hospital definition, for digitalization, which offers full integration of the devices and medical computers in the operating room with advanced imaging features (endoscopes, cameras, surgical screens, etc.).
Artech Operating Room Integration System (Operating Room Consoles) consists of Operating Room Control Panel, Digital Negatoscope / Telemedicine System and Medical Computer. Artech Medical Computer and Operating Room Consoles are designed for sterile hospital environments, have 93/42 / EEC Medical Device Certificate and are manufactured in Çizgi Teknoloji factory in accordance with IEC-60601 Medical Device, electricity and safety standards.
Artech Operating Room Consoles offer easy and fast access to surgical procedures, PACS images of patients and medical information needed during surgery. It is a modular structured solution that enables the integration of all medical technology to ensure an optimum cooperation between surgeons, radiologists, anesthetists and other operating room staff in the operating room.
Artech Operating Room Integration System enables operating room staff to focus on the best possible care for patients with video and data integration for a simple, safe and more modern working environment.
What are the technical features?
Artech Digital Negatoscope- Telemedicine System and Medical Computer's technical features are as follows;
Video Management Module
Capturing, Archiving and Publishing Images Module
DICOM Compliance and Access to PACS Images
QR-Code and RFID Reader
Optional 4 Channel Video Input
IP65 Level Protection Front Frame against dust and water
It works silently with its fanless design and prevents the transfer or spread of microbial originated contaminants to the sterile area.
Technical features of Artech Operating Room Control Panel are as follows;
Temperature, Humidity, Room Pressure, Hepa Filter Control
Handsfree Video Call Feature
Parameter Registration and Report Feature
Operation Systems, Sound and Music System Control and Command Feature
Control and Reporting Feature of Digital Negatoscope and Radiology Monitor
Artech Medical Computer products as a whole have high imaging quality, appropriate graphics processor, CPU performance, screen display and software compatibility. While it perfectly visualizes the details for surgeons during the surgery, it significantly increases the success of the surgery by enabling surgeons and other operating room personnel to concentrate more on the patient. With the appropriate software and high resolution screens, it enables the experts to see and examine the medical images better and makes it easier for them to diagnose.
Artech Medical Computers provide a platform to view PACS files containing medical images such as ultrasound and radiology, with the DICOM Preset feature. With PACS integration, camera images of surgical procedures of patients can be saved and archived. Artech Medical Computers offer easy and fast access to all medical information needed during and after surgery. In this way, the healthcare team can quickly and easily access all the information they need as soon as they focus their attention on the patient for diagnosis and monitoring. The operations performed by the Artech Medical Computer's feature of recording medical camera images can be archived, so that they can be presented for educational purposes or as case studies in congresses.
What is its Purpose and Advantages?
As Çizgi Teknoloji, our aim is to help you provide excellent care without compromising quality and safety with our Artech Medical Computer products with EEC93-42 Medical Device Compliance Certificate, in accordance with EEC-60601 standards. With the digitalization being carried out in the medical field, modern operating rooms are equipped with various technical systems. In digital operating rooms, the safety, necessary preparation and documentation requirements of the operating room are increasing, as well as pre-operative diagnostic data. With these increasing needs, the number of devices in operating rooms is also increasing and it becomes important to integrate the devices with each other for a successful operation. Artech Operating Room Integration System improves central control, teamwork and workflow efficiency by enabling the devices in the operating room to be integrated into a single device. Optimum benefits are provided in terms of Patient Safety, More Efficient Use of Operating Room Staff, Reducing Costs with Time-Material and Billing Management, Increasing Patient Satisfaction Parallel to Increasing Success Rates in Operations, Increasing the Preference and Usage Rate of the Operating Room, Creating Hospital Functions for Training and Congress purposes.
Artech Medical Computer products provide a fast and uninterrupted technical service with a warranty of up to 3 years and spare parts support for 5 years, with a modular and maintenance-free structure. It provides patient and hospital safety with its electrical and magnetic compatibility with Artech Medical Computer with EEC93-42 Medical Device Compliance Certificate, in accordance with EEC-60601 standards.
What Are Its Innovative Aspects?
The Artech Operating Room Integration System allows surgeons to see different images from different medical equipment at the same time by being integrated with surgical cameras. Integrating with our local Artech Medical software or the hospital's HIS system, it facilitates the digital recording and accessibility of critical information and documents for medical processes, making it faster to perform complex procedures and coordinate the entire operating room team at the same time. The Artech ORoom Integration System collects all operations in the central Artech Digital Negatoscope and Telemedicine system, allowing surgeons to better control the procedure, processes and environment of the surgery. With a single device and control being in the hands of the surgeon, it reduces the pressure on the surgeon and his attachment in cases that require long and detail, and ensures a more successful operation. The system can be configured according to each surgeon using the system with a single button, thus saving time and operating team more efficiently. Telemedicine feature in Artech Operating Room Integration System; It enables the transfer of medical information for online consultation, diagnosis or training during surgery between specialists outside the operating room and the operating room. With the telemedicine system, surgeons in the operating room in sudden, risky situations will be able to get help or exchange ideas by connecting with their colleagues. With this feature of the system, patient satisfaction and the rate of preference of the hospital will increase in parallel with the increase in success rates in operations. With the feature of recording the surgery, the operation is monitored again when necessary, shared with the relevant experts, and the most accurate diagnosis and treatment decisions are made. With the digital checklist of the Artech Operating Room Integration System, work flow can be followed in digital environment, and the process can be easily followed before, during and after the operation.